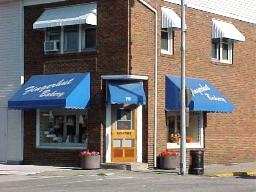 A trip to the Fingerhut Bakery of North Judson, Indiana is like taking a trip back in time. A time when your local neighborhood bakery produced some of the best smells and even better tastes than you can remember. Now you can send some of those great memories to someone special anytime you would like.
Many years ago in the 1700's in Bohemia, a small bakery was opened by Frantisek Fingerhut. He called it Fingerhut Bakery. Frantisek ran it until the 1820s when his son Anthony took over. The bakery kept growing and in the mid 1800s the third generation started with Anthony's son Jan. No longer able to keep the business running he handed it to his son Frantisek, named after his great grandfather, who took over in the late 1800s. Frantisek wanted to see a change in the business so in 1895 he decided to move to America and take his bakery business with him. They settled in Chicago because that is where most Bohemians went when moving to America.
In June of 1921, with Charles Fingerhut, the fifth generation started working full time at the bakery. Charles had a son, Joseph, that in 1946 decided the would rather farm than be a baker so he and his wife and children moved to North Judson Indiana to become farmers. However, when they arrived they noticed that a local bakery had recently gone out of business because of scarce rations from World War 2. So Joseph with the help of his cousin bought the bakery that currently stands in North Judson today.
When Joseph Fingerhut died his son Keith took over the business right out of college in 1959. Keith and Janet Fingerhut had two sons Doug and Greg, who in 1983 took over the business. Doug and Greg are currently training the ninth generation of bakers.
A Family Tradition for Nine Generations